Testimonials
We really loved your yard sign. It was the topic of the party. Besides My daughter and her belly. Everyone enjoyed taking pictures by it and it really topped the Decorations in the yard party. Thanks Phx Storks…
—Ruth N
Today I turned 60, walked outside and what a great surprise, Buzzards on the front lawn,my wife and daughter really did get me this time. Thanks to you and your yard signs, much thanks.
–Anonymous
I gave a baby shower for my son (Kendall) and his girlfriend last year on in November of 2008 and the lawn was the talk of the party. I had about 100 guests to show up and EVERYONE commented on the lawn. I think it was fabulous and I am currently looking to decorate my parents lawn for their 50th anniversary. I think the lawn decor is the neatest thing ever!!!!!!! I regret that I didn't get any photos, however, I do have video tape!
–Tammy RMonti Painting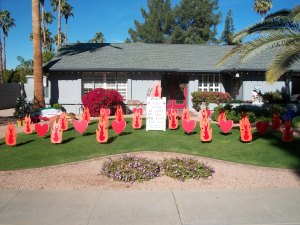 Hi Jane, just a quick note of Thanks! for the great job you did on my yard display. My wife was the envy of all the neighbors! You really made me look good. Any man wanting to knock his wife's socks off should call you and have you do the same for them. I have sent some pictures for you to show others.
—Tracy Tolleson
Okay, my sister and brother in law…..LOVE the baby sign with basketball. My brother in law played college basketball….and this is their first boy….so they were tickled pink er, blue about the announcement sign. Thanks so much for getting it planted safe and sound and adorable!!!!!
–Sean
I woke up the morning of my birthday with a fire in my yard…YIKES! There was no need for the Fire Dept. as I soon found out my dear friends where thinking of me with flames everywhere and a sign that said "Look Who is still sizzlin" Thanks so much Jane-e and Rebecca
–Becci Something 2 Brag About
My son was sent a penguin display for his eighth birthday and it was great! He is a peguinaholic and this was a perfect way for his out-of-town grandparents to be a part of his special day! Thank you!
–Tamey Z
On behalf of my sister Kerry and I, thank you! It was a success!
–Brian
Thanks so much for your help in celebrating Chad's 40th! You were a big hit. We'll definitely use you again in the future. Thanks again.
–Dave K
I understand the dogs went crazy barking! She wasn't home until this morning, so the flames greeted her when she arrived! Even better than having her wake up in the middle of it. Loved them!!!! Appropriately embarrassed. Special fun since she has no big plans for her birthday. Thanks so much…mission accomplished!
–Pam
My mom is thrilled with the lawn cows and sign. Thanks again!
–Nancy G.
Thanks for the great job! My brother-in-law loved his birthday surprise.
–Denise G.
Attached are some shots. Thanks again! It was so much fun and Brent was really surprised/shocked to have 40 flamingos in his office!
–Amy R.
Oh my gosh, she made me cry when she called me on Saturday morning…I hope she is going to send me a pix of her and her friends sitting amongst the flamingos on her front lawn. Then she txted me later asking if I had obtained "Flamingo Insurance" (LOL) so it sounds like she had a great birthday. Thanks to you which made turning 50 a little bit easier. Thank you so much again…
–Angel S.
Hi, I want to thank you for doing such a fabulous display for my daughter and son-in-law's anniversary, today, Sunday April 6th. They were very surprised and giddy about it. They emailed me some pictures and I'm so pleased with how it looks.
–Alice R.
You did the buzzards for me yesterday for Steve's 50th Birthday and I just wanted to thank you. It turned out so nice and he was so surprised and I was just really pleased and wanted to thank you for making his day special. Thank you very much!
–Julie S.